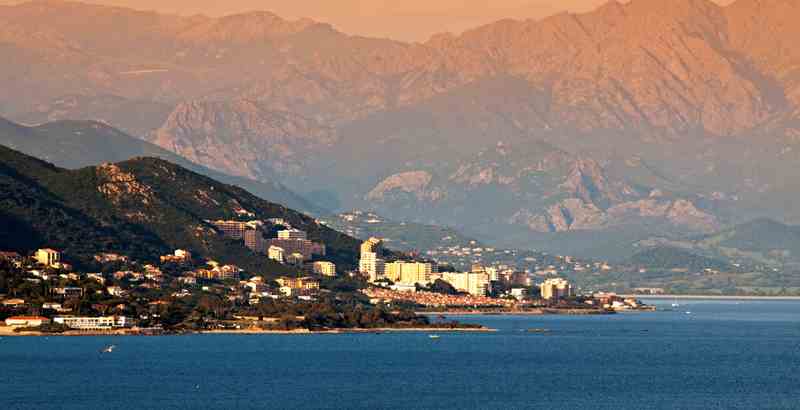 Renting A Car In Ajaccio
Tips for Tourists and Business Travelers Renting a Car in Ajaccio, Corsica
Welcome to Ajaccio, Corsica – a beautiful city on the west coast of Corsica Island that boasts picturesque beaches, stunning landscapes, and intriguing history.
Whether you're visiting for business or pleasure, renting a car is one of the best ways to explore this charming city. However, choosing the right rental company can be overwhelming, with many options available at Ajaccio Napoleon Bonaparte Airport (AJA).
That's why we've put together this guide with tips and tricks for tourists and business travelers looking to rent a car in Ajaccio. From getting directions to what documents you need, we've got you covered.
Choosing the Right Car Rental Company in Ajaccio
Choosing the right car rental company in Ajaccio, researching the companies' reputations, and reading reviews from previous customers are important. This will give you an idea of their customer service, reliability, and transparency.
Another factor to consider is the type of car you need for your trip – whether it's a compact car for city driving or an SUV for exploring rugged terrain. Some rental companies offer a wide range of vehicles at competitive prices. Others may have limited options but provide excellent service.
It's also worth checking if the company offers additional services such as GPS navigation systems or child seats, which can save you time and money compared to renting them separately. Don't forget about hidden fees – make sure you understand all costs associated with your rental before making any reservations.
To compare prices or book a rental vehicle, see detailed information about car rental services in Ajaccio.
Car Rental Options in Ajaccio
Several international and local car rental companies operate in Ajaccio, Corsica. Some popular ones include Avis, Europcar, Hertz,and Sixt. Each company has its own terms and conditions as well as pricing policies.
Depending on your budget and preference, the types of vehicles available for rent range from economy cars to luxury vehicles. It's always wise to book in advance, especially during peak season, as availability can be limited.
One-way rentals are also possible if you return the vehicle at a different location than where you picked it up. Additional charges may apply, so check with the rental company beforehand.
Most car rental companies offer additional services such as GPS navigation systems, child safety seats, or additional drivers for an extra fee. Make sure to inquire about these services upon booking if needed.
Driving Directions from Ajaccio Napoleon Bonaparte Airport
If you're renting a car from the airport and plan on exploring Corsica during your stay, familiarize yourself with these driving directions beforehand. It's always best practice to use GPS or Google Maps when navigating unfamiliar terrain. Doing so can avoid getting lost or making wrong turns along the way.
Ajaccio Napoleon Bonaparte Airport is located in southern Corsica, France, about 5 km east of the harbor. It is an important hub for tourists and business travelers visiting the island. If you plan to rent a car at the airport, you must know how to get around once you leave the terminal.
When exiting the hub, take the first roundabout towards Route de l'Aéroport heading northbound. Then, follow the signs indicating "Ajaccio Centre" on your right-hand side. You will pass through several traffic circles before reaching Boulevard Georges Pompidou.
Keep driving straight until you reach Avenue Maréchal Juin, where you'll need to turn left and continue until Rue Cardinal Fesch. Take another left onto Rue Cardinal Fesch and continue until Place du Général De Gaulle. From there, follow signs leading towards your destination while remembering that most roads are one-way only in downtown Ajaccio.
Benefits of Renting a Car in Ajaccio
Renting a car when visiting Ajaccio provides convenience and independence during your stay, making it easier than ever. One of the main advantages is that it gives you the freedom and flexibility to explore at your own pace.
You won't have to waste time and money using cabs or public transit. Ajaccio's top sights are easily accessible, and you won't have to worry about getting lost or missing a bus. As an added bonus, you can alter your route and schedule.
Another benefit of renting a car in Ajaccio is that it allows you to experience local culture uniquely. Driving through small towns and villages will give you an authentic feel for daily life in Corsica. Plus, with a rental car, you'll be able to access places off the beaten path that may not be accessible by other means of transport.
What are the terms and conditions of the rental car agreement in Ajaccio?
The first thing you should do is carefully read through all the terms and conditions presented by the car rental company. This will help you avoid any surprises or unexpected charges down the line. Some common stipulations in these agreements include driver age restrictions, mileage limits, fuel policies, insurance coverage options, and additional driver fees.
Make sure you fully understand each point before signing on the dotted line. It is also essential that foreign visitors familiarize themselves with French driving laws and regulations before getting behind the wheel.
What documents are needed before a foreigner can rent a car in Ajaccio?
You must present some mandatory documents, including your passport, as proof of identification. The rental company must verify that the person renting the vehicle is who they claim to be. Most car rental companies require an international driver's license.
It's important to note that not all countries issue this type of license. It's best to check with your local licensing authority before traveling. Suppose an international driver's license isn't available or necessary in your home country. In that case, presenting your domestic driver's license should suffice.
Another document foreigners need is a valid credit card with sufficient funds for the required deposit payment and other charges like fuel and toll fees, if applicable, during the rental period. Consider taking out travel insurance packages covering rental car damages since it can sometimes save you from expensive repair costs.
What payment methods are available for international customers?
Most car rental companies accept credit cards, including Visa and MasterCard. However, it's always best to check with the specific company beforehand. Please note that some car rental companies may require a deposit when paying with a credit card. This is typically refunded upon returning the vehicle without any damages or violations.
Some companies may accept debit cards or cash payments. However, these options often include additional restrictions and requirements such as higher deposits or proof of return travel plans, among other papers.
Regardless of your chosen payment method, read and understand all terms and conditions before finalizing your reservation. Some fees and charges may apply depending on the payment method or if any changes are made during the rental period.
Tips for Avoiding Rental Car Fees and Charges in Ajaccio
Renting a car in Ajaccio, Corsica, can be an excellent way to explore the beautiful city and its surroundings. However, keeping an eye out for extra fees and charges that could significantly increase your rental costs is essential.
One of the most common ways to avoid rental car fees and charges is by returning your vehicle on time. Late returns usually come with additional fees that can add up quickly. Make sure you read the terms and conditions of your agreement before renting a car so you know exactly when it should be returned.
Another way to save money on car rentals is to fill the tank before returning it. Many rental companies charge a premium fee for refueling services, which can be avoided if you ensure the gas tank is full when handing over the keys.
You should also inspect the car thoroughly once you receive it from the rental company. Any preexisting damages or scratches should be noted because failing to do so could result in unexpected charges at the end of your rental period.
You must also return all accessories, such as GPS devices or child seats provided by the rental company, since not doing so may result in hefty fines. Please pay attention to toll roads requiring extra payment beyond regular gas expenses.
Be mindful of any toll roads along your route since driving through them without paying first will incur additional penalties from local authorities and potentially even your rental company.
Frequently Asked Questions for Foreigners Renting a Car in Ajaccio
Q: What are the speed limits when driving on Ajaccio, Corsica roads?
A: The red circle delineating speed restrictions is clear and easy to read. You will only need it sometimes since you can't go quickly on these twisty roads. The speed limit in most towns is 30 kilometers per hour, and there are numerous speed bumps.
Q: Can I add another driver to my rental contract in Ajaccio, Corsica?
A: If the renter brings a licensed driver, they can add them to the rental agreement at any rental location.
Q: What type of driver's license does a foreigner need to rent a car in Ajaccio, Corsica?
A: A valid driver's license from a country that is a part of the European Union. Permit holders from other states must produce a photo ID and either the original issued document or an official translation into French. Neither a suspended nor a lost or stolen license will allow you to rent a car.
Q: What are the age restrictions for foreigners renting a car in Ajaccio, Corsica?
A: In France, the minimum age to get behind the wheel is 18. However, most French automobile rental agencies have a minimum age requirement of 21. They may also inquire whether you have held your license for at least a year.
Q: Can an elderly also rent a car in Ajaccio, Corsica?
A: Age restrictions do not apply. There is no "senior driver fee" charged.
Q: Can I use my home country's insurance when renting a car in Ajaccio, Corsica?
A: There is no need to purchase more coverage beyond what the law requires. In the event of an incident, however, you may lose your whole security deposit.
Civil liability insurance is required by law in France and on the island of Corsica. It's rolled into your automobile rental fee without any extra charges.
Q: If available, what is the price range for toll fees in Ajaccio, Corsica?
A: The cost of tolls in Ajaccio, Corsica, varies depending on the route taken. Generally speaking, a single journey across town can cost anywhere from €1.50 to €2.00 for cars and light commercial vehicles. Certain routes may require up to €4 or more depending on the distance traveled and time of day.
Prices are higher for larger vehicles such as trucks and buses. Additional charges may be associated with specific roadways or tunnels, so checking before planning your trip is best.
What are the rules for parking and driving in Ajaccio?
When driving and parking in Ajaccio, Corsica, it is important to follow the road rules. The speed limit in urban areas is typically 50 kilometers per hour. In comparison, on highways, it's around 120 kilometers per hour. However, always pay attention to posted speed limits, which can vary.
Parking in Ajaccio can be tricky at times due to limited space. Before leaving your car, you must check for signs indicating parking restrictions or prohibited zones. If you need help with where to park or if there are any restrictions, ask a local or consult with your car rental company.
It's also worth noting that many streets in Ajaccio are narrow and winding, so proceed with caution when navigating through these areas. Always give way to pedestrians and other vehicles when necessary.
If you plan to drive outside the city center, be aware that rural roads may need street lighting and can be quite dark at night. Always use headlights during dusk and dawn hours for safety reasons.
For reliable and cost-friendly parking spaces, see more information about available parking locations in Ajaccio.
What should a foreigner do when driving in Ajaccio for the first time?
Driving in a foreign country can be daunting, especially if it's your first time. In Ajaccio, Corsica, driving may seem challenging because of the narrow streets and busy city traffic. Here are some tips to help you easily navigate the roads.
Familiarize yourself with local traffic laws and regulations. Understanding the road signs' meaning before hitting the road is essential. If you need clarification on any rules or signs, consult your rental car company or ask locals for guidance.
Ensure you have ready all necessary documents, such as your driver's license and passport, before renting a car. You should also check whether an international driving permit is required in France.
Learn more on how to obtain an International Driving Permit for driving in France.
Take some time to adjust to the vehicle before starting off on your journey. Get comfortable with adjusting seat positions and mirrors according to your needs.
Start by taking short trips around town during quiet times, such as early mornings or late evenings when there is less traffic on the roads.
Last but not least importantly - stay calm while driving! Remember to keep left while driving in Ajaccio since French drivers drive on this side of the road compared to other European countries where drivers keep right.
What should you do if the cops pull you in for a traffic violation?
Getting pulled over by the cops in Ajaccio, Corsica, can be a stressful experience for anyone. Remember that cooperation is key when dealing with law enforcement officials in the Ajaccio Napoleon Bonaparte Airport area or anywhere else while driving a rented car.
Pull Over Safely. As soon as you notice the police car behind you with flashing lights and sirens, pull over safely to the side of the road or wherever indicated by the police.
Stay in Your Car. Stay inside your vehicle unless instructed otherwise by police officers.
Be Polite and Respectful. Be polite and respectful when speaking with law enforcement officials, even if you disagree.
Follow Instructions Carefully. Listen carefully to instructions from law enforcement officials and follow them promptly.
Provide the Required Documentation. Provide all required documentation, such as driver's license, rental agreement, insurance papers, etc., immediately upon request.
Don't Argue. Avoid arguing or challenging any fines or tickets issued on the spot, as this will only lead to further problems.
What if the car breaks down during the rental period?
Accidents can happen while it's rare for a rental car to break down. If you are in this situation during your rental period at Ajaccio Napoleon Bonaparte Airport, don't panic.
Remember that even though breaking down during a trip can be stressful and frustrating, handling it calmly and following these steps will ensure that everything is resolved so you can continue enjoying your time. Here are some steps you can take:
Contact the Rental Company: Call the rental company immediately and explain what happened. They will guide you on what to do next.
Follow Their Instructions: The rental company may have specific instructions on handling the breakdown or repair process. Make sure to follow them carefully.
Check Your Insurance Coverage: Review your insurance policy or credit card coverage to see if it includes roadside assistance or other benefits that could help with any costs incurred due to the breakdown.
Get a Replacement Vehicle: Depending on the severity of the issue, the rental company may provide you with a replacement vehicle while yours is being repaired.
Keep Records: Document everything related to the breakdown, including who you spoke with at the rental company, any repairs made and their cost, and any receipts or invoices related to expenses incurred due to the incident.
What to do if you're involved in a traffic accident?
Being involved in a traffic accident can be a stressful and scary experience, especially if you're in a foreign country. Here are some tips on what to do if you find yourself in this situation while driving your rental car from Ajaccio Napoleon Bonaparte Airport.
Ensure the safety of everyone involved by moving your vehicle to the side of the road or turning on hazard lights. Check for injuries and call emergency services immediately if needed.
Exchange information with other drivers, including names, contact details, insurance information, and license plate numbers. Take photos of any damages to all vehicles as well as the scene of the accident.
Notify your car rental company about the incident as soon as possible. They may have specific procedures to follow regarding vehicle repairs or replacement.
It is essential to only admit fault or discuss details about who was at fault once law enforcement arrives at the scene. Cooperate fully with authorities when they arrive and provide them with accurate information about what occurred leading up to the accident.
Remember that accidents happen even to experienced drivers; staying calm and following these steps will help minimize stress during a challenging time.
What other transport options are available in Ajaccio?
Aside from renting a car, tourists and business travelers in Ajaccio can also explore other transport options. One popular option is taking the bus. The city has an extensive network of buses that can take you to different parts of Ajaccio and nearby towns.
Another option is taking a taxi. Taxis are readily available at the airport, hotels, and tourist spots. However, they can be quite expensive compared to other modes of transportation. For those who want a more adventurous way of exploring Ajaccio, renting a scooter or motorbike might be the perfect choice for you! It's a great way to experience the beauty of this picturesque town while feeling like a local.
Suppose you're not keen on driving or riding around by yourself. In that case, guided tours will take you to Ajaccio's must-see attractions. If you're looking for something eco-friendly and budget-friendly at the same time, consider cycling around town! Several bike rental shops are located throughout Ajaccio, where you can rent bikes by hour or day.
To navigate the island effortlessly while saving on transportation costs, see more information about available transportation options in Ajaccio.
What must-see attractions I can visit using a rental car in Ajaccio?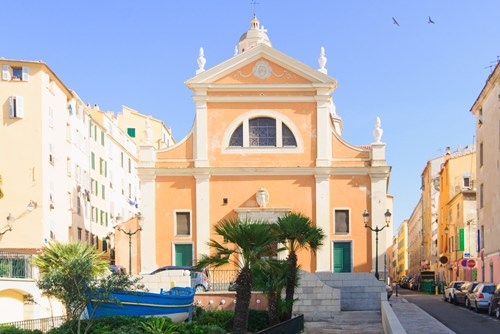 Ajaccio, the capital city of Corsica, boasts a rich history and stunning landscapes that attract thousands of tourists annually. One must-see attraction is the Maison Bonaparte, the ancestral home of Napoleon Bonaparte. This historical museum offers a glimpse into the life and times of one of history's most famous figures.
The Ajaccio Cathedral (Cathédrale d'Ajaccio) is another significant landmark in this Mediterranean paradise. The cathedral dates back to the 16th century and houses exceptional artwork and religious artifacts.
Nature lovers will be enchanted by the breathtaking beauty of Calanques de Piana, a series of dramatic red rock cliffs plunging into crystal-clear waters. These natural wonders are best explored through boat tours or hiking trails for an unforgettable experience.
Do not miss visiting the Fesch Museum (Musée Fesch), which houses an impressive collection of Italian Renaissance art from renowned artists like Botticelli and Titian. This museum is considered one of France's finest galleries outside Paris.
Take some time to relax at Plage Saint-François – a picturesque sandy beach located just steps away from downtown Ajaccio – perfect for soaking up sunrays or taking refreshing dips in turquoise waters.
Discover the extensive range of tourism attractions in Ajaccio, presenting a diverse array of options for visitors to explore and enjoy. See more information about the best tourism offerings in Ajaccio.
What types of accommodation are available in Ajaccio?
The cost of accommodations in Ajaccio varies greatly, depending on the type and location of your chosen hotel or rental. Many budget-friendly options are available, ranging from hostels and guesthouses to various apartments.
Prices for these lower-end accommodations can start as low as €35 per night, with higher quality hotels costing anywhere between €50-€200 per night. For those looking for luxury accommodation, resorts, and villas can be found at prices upwards of €450 per night.
To compare prices or book a hotel for your stay in the island, see details about finest hotels and accommodations in Ajaccio.
UNBEATABLE VALUE CAR RENTAL

FREE
Amendments,
FREE
Cancellations,
NO
card fees!

airport_shuttle Need Airport Transfers?
Useful Information about Ajaccio Airport